News
Upper Hutt Multicultural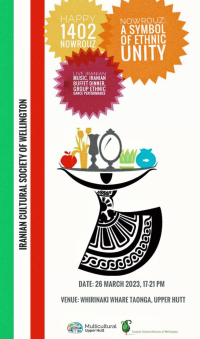 The Iranian Cultural Society of Wellington, the heart of the Iranian community in the Wellington region, came together last Sunday for the biggest night of the Persian calendar: Nowruz, or Persian New Year.
Due to covid the community had not gathered for 3 years, and all of the stress, grief and work in response to escalating womens rights protests in Iran recently, meant that the need for aroha and kotahitanga / love and togetherness was greater than ever.
Overcoming short timeframes and a budget only tenth the usual size, the community had to think quickly and creatively to make this big night happen. Sepi Firoozkoohi and Marzieh Keshavarzi, ICSW President and Vice-president, teamed up with UHMCC to do so.
For the first time Nowruz was celebrated in Upper Hutt, open to the public, and done completely from community connections. UHMCC agreed to cover venue costs, a chef in the community volunteered to cook an Iranian buffet with many classic dishes, musicians and performers agreed to take part free of charge, volunteers from Activation took care of the children and Orongomai Marae volunteers handled the serving expertly. All setup and pack down was completely owned by the community.
It was a massive effort on behalf of everybody involved, a good learning experience, and ultimately a wonderful warm evening full of sensational food and joyous dancing. UHMCC looks forward to working closely with ICSW as they continue to discover their potential as a community.