News
Upper Hutt Multicultural
Due to unforeseen reason, we have to postpone this event to another proper date. Apologies for the late notice. We will let you know as soon as we confirm the new date.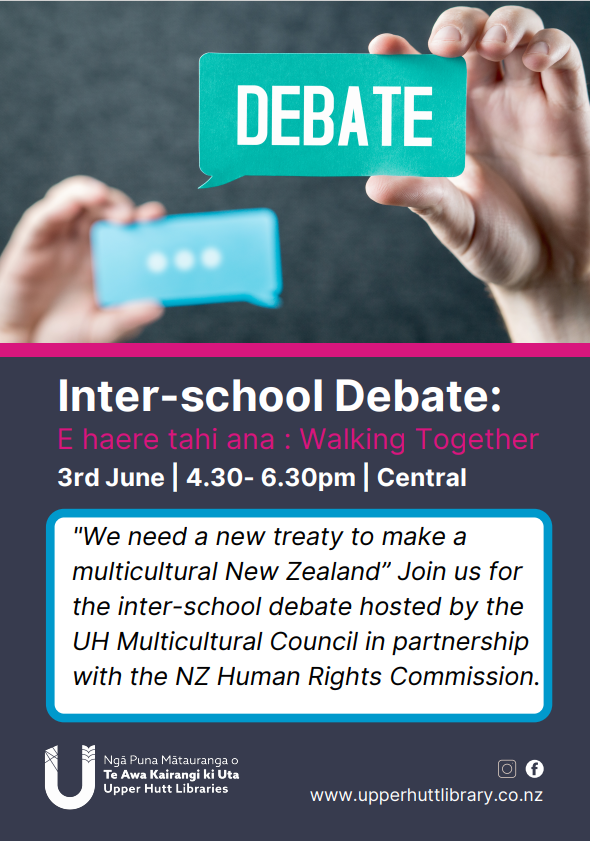 Invitation- 2021 Upper Hutt Race Relations Day Inter-school Debate 2021 on 3 June at the Upper Hutt City Library between 4:30 pm – 6:30 pm (Postponed date)
Race Relations Day is celebrated annually on 21st March, which also marks The International Day for the Elimination of Racial Discrimination. Every year the Race Relations Commissioner/Commission assists and leads to facilitate a theme in observance of this day around New Zealand. For 2021, the theme is:
'E haere tahi ana'
'Walking together'
The idea is that no matter what communities we may belong to in Aotearoa, we are all navigating the journey of a more inclusive society grounded on Te Tiriti o Waitangi, and the journey is made easier when we support one another. This reflects the Whakataukī "Kia whakatōmuri te haere whakamua": "I walk backwards into the future with my eyes fixed on my past". If we are to truly respect and create a multicultural Aotearoa, we must look to the past, to inform the future.
The Upper Hutt Multicultural Council acknowledges the significance of this day by hosting the Race Relations Day Inter-School Debate, and is a great way for our rangatiratanga to express their views on topics that is relevant and thought provoking for the future of our nation.