News
Upper Hutt Multicultural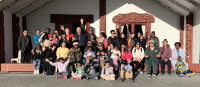 On the morning of Saturday 19th August, Upper Hutt Multicultural Council gathered outside Orongomai Marae alongside members of our local multicultural communities that have been in New Zealand from anywhere between 3 months and 30 years. Most of them had never been on a marae before.
The Orongomai whānau welcomed everyone into the wharenui, where we would be spending the rest of the weekend, in a powhiri. We embarked on a weekend of wananga (learning) and kotahitanga that left us all feeling like family. We cooked together, slept together, and listened and shared stories of our journeys in New Zealand.
We were grateful for the wisdom of matua Matiu from Waiwhetu, who shared stories of te ao Maori and Te Tiriti o Waitangi - we found this much better than learning it from a book, and many people connected to these stories through parallel values and experiences from their homelands. We were grateful also for the warm-hearted presence of whaea Lorna who stayed with us for the first day, and the support from Sammie and the rest of the Orongomai crew who all popped in to tautoko in their special ways.
The reflections shared at the end of our stay were very powerful. Some people had strong dreams while sleeping in the wharenui, feeling reassured that there was a place in New Zealand they could connect with spirit. Others said it was the first time they had found a sense of family in New Zealand, or that it reminded them of their home village, surrounded by the activity of friends and family, that they cannot find here alone in their house. Others still said it was so wonderful to see their children running around together, not having to worry about where they were or if they were safe, and not staring all day at screens!
We are learning together that the marae is a place we can all come to share and be in connection, something that is so necessary for our happiness, health and sense of belonging. We hope Orongomai will continue to be a part of this journey with us, and so grateful for the trust showed in leaving us to care for the marae over the weekend. Many who attended have stayed in touch and mentioned they have friends and family who they would love to bring along to a noho marae, we hope to be able to host another one again very soon.
Gallery is loading. Please wait. Javascript will need to be enabled to view it.